A Cure for the Dog Day Doldrums
How about some fun, fish-filled days in the northern stretches of Lake Oahe, with the fishing community of Akaska, So. Dak. dead center in the action. Oahe is a famous and storied walleye fishery steeped in a rich history of torrid early-summer feeding frenzies. Good anglers using both extremely deep and shallow tactics have been stretching the amazing bite well into late summer as well. This area is a true all-season destination. For those who have yet to experience it, you owe it to yourself to do so.
If you want to get into some so-called-difficult dog day walleyes, here's an opportunity to gather some boat-in-the-water, real world intel. I suggest participating in the best-run walleye tournament in the upper Midwest—the annual South Dakota Walleye Classic—with the opportunity to watch and learn from the locals.
You can expect stiff, yet good-natured and ethical competition combined with impressive cash, Calcutta and product payouts over a two-day tournament, with none of the permanent, black eye cheating nonsense. As notable as the fishing is, just as impressive is all the effort the volunteers donate to not only the Classic, but also their time and considerable energy put into other community causes over recent years.
This has led to many significant improvements and developments. One is a spacious and well-thought-out community center where the rules meetings, weigh-ins and award ceremonies are conducted. Both the Seniors Fishing Day and the Kid's Ice Fishing Tournament are held here each year. Angling on the reservoir is highly promoted as an all-ages affair.
The most visible and recent development is the addition of a universally appreciated, all-weather cleaning station at Swan Creek Recreation area. It's very similar to what sister community and partner-in-promotions Mobridge has constructed at the Indian Creek Recreation Area. After a hot day on the water, selectively harvest and then comfortably and properly prepare your catch for the finest possible table fare in the climate-controlled facility. (With none of the associated odors and annoying flies to contend with.)
The community and entire area also backs the Lake Oahe Walleye Restoration Coalition, formed due to the concerns of interested parties such as anglers, business people and the community at large. The last few years, we have witnessed an incredible bite for trophy-sized walleyes. The real concern has been the eating-sized fish have been harder to come by. This must be addressed as the health of this diverse fishery directly impacts the well-being of our communities via sales tax revenue and property tax valuations.
The town of Akaska and in turn the South Dakota Walleye Classic committee are at the forefront of these efforts. Just as importantly, all the resorts, guides, bait shops, convenience stores, etc., up and down the massive reservoir are firmly involved and backing the coalition. Over 2,000 folks have signed up thus far to show support and we can sure use more.
To that end, please visit sdwalleyeclassic.com and the Lake Oahe Walleye Restoration Coalition Facebook page to find additional information on what is being done to improve the fishery. Walleye spawning operations have concluded and we will soon see the collected eggs and milt come back home from the hatcheries as fingerlings to give mother nature a boost.
Just as, if not even more important, is the continuation of enhancing the variety of options in the prey fish base to help ensure a continually healthy fishery. To get a real visual feel for all of this, please check out the video we shot for episodes of Focus Outdoors TV on-demand with the free Outdoor Action TV app or as part of their programming on Roku, Amazon Fire and Apple TV. Here you will find spawning operations, stocking of pre-spawn shad and some insightful and valuable commentary from the dedicated fisheries staff of the South Dakota Game Fish and Parks.
Now that we have a bit of the business and conservation side of things covered, it's time to talk fishing. Specifically, I can give you a brief rundown of some of the tactics that will play a prominent role in the South Dakota Walleye Classic.
Are you enjoying this post?
You can be among the first to get the latest info on where to go, what to use and how to use it!
The most used and often associated tactic with Lake Oahe is presenting live bait with bottom bouncers on the untold number of small, medium and massive structural elements and miles upon miles of vast feeding flats. These can be in the form of nightcrawlers on spinner and slow death rigs or minnows and leeches on plain or slightly dressed up leaders. Although difficult to find and a chore to keep alive in high temps, creek chubs can be deadly and are always a wild card.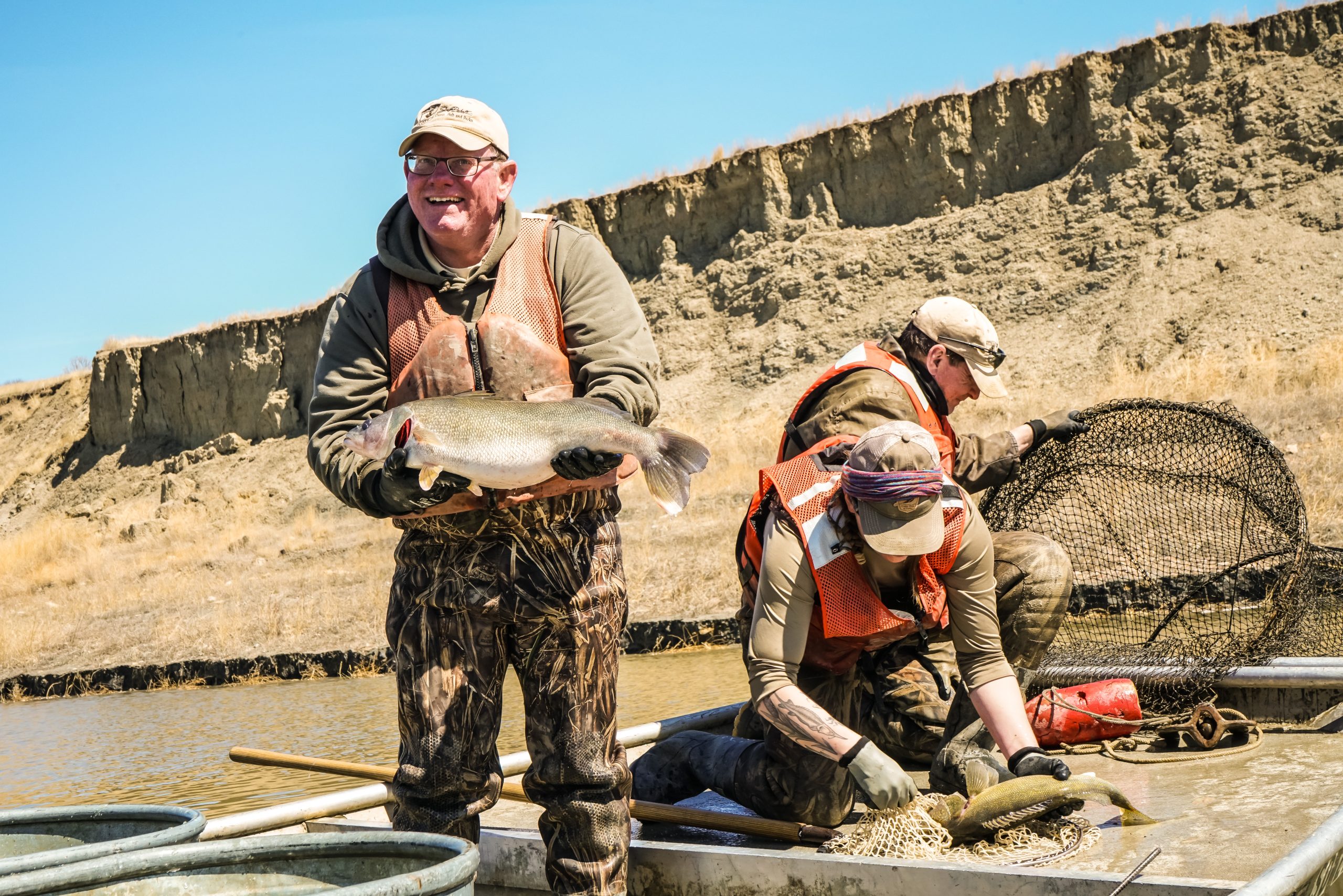 Contour trolling crankbaits on steep breaks leading into the old river channel is a proven producer in late summer. With braided line, depths up to 45 feet can be obtained with big-billed minnow style baits. Leadcore and snap weights can also help get you to where the fish are and have the added benefit of allowing you to present smaller shad-bodied baits. Options are only limited by your imagination and willingness to experiment.
These deep, break-orientated fish are now being individually targeted with the introduction of forward-facing sonar. Astute anglers have been plucking off big walleyes as part of a casting or vertical jigging program. Whatever you are comfortable throwing or aggressively working will work on these cooperative fish.
Now, don't get totally hung up on the deep stuff, as there are shallow fish to be had as well. This tournament can and has been won in just a few feet of water. Seventy-five-degree-plus water is common and a little counterintuitive for many. It may take a bit to get some folks out of their comfort level to try some out-of-the-box tactics such as pulling crankbaits in the very backs of bays—way back. You should be in water that looks better suited for catfish and carp. If you hit this right, the bite can be fast and furious.
Bump up your speed to match the aggressive attitude of the fish as they are pounding bite-sized edibles swimming around in the form of young-of-the-year white bass, perch, crappies, drum, skipjacks, catfish and just about every species inhabiting this diverse reservoir. The predators are never too far away. Mostly in the form of walleyes, but be prepared for a fair share of pike, smallmouths, channel cats, skipjacks, etc.
The moral of the story is that these aggressive, riverine fish respond to any number of techniques. If you excel at something on other waters, rest assured you will get the fish to go with it on Lake Oahe.
I will leave you with an aesthetic thought on the area. If you like rolling prairie and a near overabundance of wildlife, the 15-minute tour from Akaska along Swan Creek leading to the ramps and fish cleaning station perfectly portrays what South Dakota has to offer. I consider this (although I may be somewhat biased) to be one of the most scenic and satisfying drives you can make. Early morning and late evening, you can observe pretty much every creature living in the area: mule and whitetail deer, eagles, hawks, owls, meadowlarks and other songbirds. Plus, throw in a few antelope, turkeys, fox, coyote, sharp-tailed grouse, and of course, the most recognizable and beautiful bird of all—South Dakota's mascot if you will—the Chinese ringnecked pheasant.
Stop in town for a steak and a beer and turn your gaze west for the most breathtaking and picturesque sunsets imaginable. Just more fuel to fire up your passion for all things wildlife.
You can be among the first to get the latest info on where to go, what to use and how to use it!
---
Dennis Foster is an avid multimedia outdoor communicator, tournament fisherman and hunting guide. His work appears in publications such as MidWest Outdoors, on radio stations throughout the country, and on Focus Outdoors TV. He welcomes feedback and may be reached through either of his websites, eyetimepromotions.com or dakotapheasantguide.com.
All author posts
---