2019 Ultimate Sport Show Grand Rapids, MI: March 14-17
2019 Grand Rapids Outdoors Sports Show
Michigan's finest tradition for the avid fisherman, hunter or outdoor loving family! Exhibitors will be at the show with the latest in outdoor gear, travel information and fishing boats. The features are famous: World Class Taxidermy, Antique Lures, Trout Pond, Hawg Trough, Woodcarvers, Fishing Simulator and Rock Wall. Nearly 100 fishing and hunting seminars will be held on 5 stages, including "Lake Ultimate," the 110,000 gallon indoor lake.
2019 Grand Rapids Outdoor Show Hours
THURSDAY
1:00 PM – 9:00 PM
FRIDAY
11:00 AM – 9:00 PM
SATURDAY
10:00 AM – 8:00 PM
SUNDAY
10:00 AM – 5:00 PM
2019 Grand Rapids Outdoor Show Admission/Ticket Prices
Adult – $12
Children (6-14) – $5
5 & Under – Free
2019 Grand Rapids Outdoor Show Location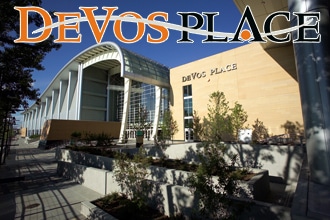 303 Monroe Ave NW
Grand Rapids, MI 49503
DeVos Place is a state-of-the-art convention center located in the heart of downtown Grand Rapids on the beautiful Grand River. The multilevel DeVos Place provides flexible and functional space with 1-million-square feet of new and renovated space on a 13-acre riverfront site. It is ideally equipped for meetings, conventions and trade shows as well as performing arts and touring events, and has the capability of hosting a variety of events simultaneously.
2019 Grand Rapids Outdoor Show Seminar Speakers
Denny is the Host of the Outdoor Adventures TV Show and will bring his hunting knowledge to the Sport Show. A well known book author, video producer and published outdoor writer, Geurink's seminars are a must see. Take advantage of this opportunity to learn from a pro! Denny will be presenting educational and entertaining seminars on the subject of hunting turkeys in Michigan. He is one of the top Turkey hunting experts in the nation and will help you bag your next gobbler.
Jim is one of Michigan's foremost authorities on fishing Michigan Rivers with spinners and other lures. The retired toxicologist spends over 1,000 hours a year fishing Michigan Rivers and has written three books on the subject. Jim's most recent book "Spinner Magic!" has been a huge hit with Michigan anglers. Jim will discuss how to pick the best local water and target the most active fish.
Dan is a popular freelance outdoor writer, speaker and syndicated radio show host whose fishing articles appear in Great Lakes Angler, Michigan Game & Fish, Outdoor Life, BoatUS Angler, Lakeland Boating, MidWest Outdoors, Pontoon & Deck Boat, The Outdoor Hub and Cabela's Outfitter Journal. Dan holds a Bachelor of Science Degree in Education from Ohio State University, is a licensed US Coast Guard Captain and travels the nation leading fishing and boating programs at boat and sport shows.
More than 30 years ago, Michigan native, Will Schultz's first muskie encounter started what would be best described as obsessive compulsive muskie disorder. This lead him to thousands of muskie encounters and more than 100 over 50″ in his boat. These days he gets as much enjoyment from helping others catch their first or largest muskie as he does from catching them himself. As a conservation leader in Michigan, Will has been deeply involved in muskie preservation, restoration and education as a member of MI-DNR committees as well as a past president of Muskies, Inc. Chapter 47.
Jake is both one of the youngest and most experienced charter captains on the Great Lakes. The son of outdoor writer and TV host Mark Romanack, Jake has been fishing since he was old enough to hold up a rod/reel combo. He spent three years acting as a first mate on a dozen different charter boats before he stepped up an got his own "captains" license. Captain Jake specializes in educational charters, seminars, YouTube videos and co-hosting TV productions as part of the family business Fishing 411 Productions.
Tom hails from Carson City, the heart of Michigan's big buck country, and has stalked the woods and fields for over 38 years learning and honing his skills in the ways of whitetails, turkey and small game. As an accomplished professional game-caller and hunting guide, Tom attributes his success in the ability to get close to the animals he's hunting by learning their language and becoming as invisible to the game as humanly possible. In his seminars, Tom not only teaches this many unique deer calling techniques, but also scent and sight control, learning the animals' habits and weaknesses, developing and utilizing woodsman-ship skills to successfully blend into the forest, and becoming a part of his surroundings by vocally imitating the animal he's hunting.
Outdoor writer, speaker, and Bear Archery Pro-staffer, Jason Herbert has enjoyed great success pursuing his passions in the outdoor industry. Jason is a nationally published writer with works in Outdoors Life, North American Whitetail, Deer and Deer Hunting, Petersen's Bowhunting, and Bow and Arrow Hunting. He has also worked with several smaller, regional publications. Jason's advice and tactics are practical and apply to almost everyone.
Richard is the owner of Sea Quest Lures in Portage, Indiana and is an avid fisherman with over 30 years of experience fishing the Great Lakes. Holm has done extensive research on lure colors and the effects of lighting at different depths.
Capt. Willis is the owner of Thunderduck Sportfishing Charters and the new Fish ON Bait & Tackle store. He is one of the most knowledgeable anglers on Lake Michigan. Willis spends countless hours on the big lake each season consistently providing solid results for his customers.  His seminar will focus on the best proven tactics to boat your limit of Salmon, Steelhead and Trout trolling Lake Michigan. With decades of fishing experience this seminar will improve your catch next summer.
Joe is an angler, author and entertainer.  From competing at the highest levels of professional bass fishing to authoring the definitive account of life as a pro angler, to hosting today's most popular television series focusing on bass fishing, there is a common thread that runs through Joe Thomas' life.  Joe grew up in southwestern Ohio with dreams of becoming a bass pro and continued on with a 30-year career that has made an impact on the sport.
Capt. Wayne hasdedicated fifteen years of effort to bringing in fishing information and bait technology to anglers. The research done over that period resulted in the development of the Combat Fishing Weekly Newsletter, No Secrets On Lake St. Clair volumes 1 and 2 books, No Secrets On Lake St. Clair DVD, Marked Maps Series 1 and 2, and multiple web-sites. Wayne has also developed a full line of tournament quality baits by Xtreme Bass Tackle.  He has been recognized as the foremost bass fishing expert on Lake St. Clair through his participation in Michigan's major fishing shows, TV and radio appearances and nationally known product development.
As founder of Lance Valentine's Walleye 101 and the "Fishing Education Center," Lance has helped countless anglers catch more fish through seminars, workshops and educational charters.  Over 20 years of walleye fishing experience has gained Lance the knowledge needed to become known as an expert on marine electronics.  Catching more fish of all species begins with the ability to locate them and stay where they are, and Lance's seminars will teach all you need to master your electronics.
Mark Romanack, "the Outdoors Guy" is a life-long outdoorsman and one of the nation's most active members of the outdoor media.  A graduate of Northern Michigan University with a B.S. Degree in Conservation, Romanack has spent his entire career working to help others better understand and appreciate the outdoors.  Romanack's outdoor career started in 1981 as an Environmental Educator. While working as a naturalist, he began to write outdoor articles. This part-time hobby grew into a full-fledged career with writing and photography credits in over 30 different local, regional and national magazines. Currently Romanack writes frequently, In-Fisherman, Gun Dog, Wildfowl, Delta Waterfowl, Nation's Best Sports, Cabela's Outfitter Journal, Waterfowl Retriever, Fur-Fish-Game, Woods-N-Water News, Michigan Out of Doors, and publishes a weekly outdoor blog on Facebook. He has published 11 different books on fishing, including the widely popular Precision Trolling series, authored more than 3,000 feature articles and columns, sold hundreds of magazine covers and countless support photographs. In addition to writing and photography, Romanack has become a sought after public speaker on a variety of outdoor topics.  Considered one of the nation's leading authorities on walleye fishing and all things trolling, Romanack also speaks on other outdoor topics including dog training and wing shooting.  In 2007 Romanack plunged into the TV world by hosting and field producing a new TV series called Fishing 411, which is broadcast nationwide on the World Fishing Network. Romanack also hosts an outdoor radio broadcast on WTCM radio in Northern Michigan.
There is no denying walleye are finicky fish and fishing pro Mark Martin is no stranger to teaching others on how to catch them. Martin has been giving seminars on the subject since his first tournament win in 1991, during the first-ever Professional Walleye Trail (PWT) Championship, which coined him the title "The Original Champ." A life-long resident of Michigan, Martin is currently an instructor with the Fishing Vacation / Schools as well a tournament pro with Anglers Insight Marketing (AIM). Not to be missed, Martin will be giving seminars on catching walleye using modern-day open-water techniques, and, giving up his secrets to catching these most fickle of fish through the ice.
Marianne grew up in the resort community of Charlevoix, Michigan spending most of her time on the waters of Lake Michigan and Lake Charlevoix. Her first interest in fishing began at the young age of six while fishing for perch and salmon with her grandfather. In her early 20's she began chasing walleyes thru the ice and on open water from the Detroit River to the waters of St. Mary's River bordering Canada and Michigan. Catching walleye's became Marianne's favorite past time while learning everything she could about marine electronics. Marianne entered her first professional walleye tournament in 2009; three years later she won the AOY title in 2012. She has also competed in Europe representing the USA in the World Predator Tour in the year 2015. Marianne enjoys talking fishing and teaching other angler the importance and "how to" of marine electronics.
More events will be uploaded as show gets closer!
You can be among the first to get the latest info on where to go, what to use and how to use it!
---
We believe being outdoors is good. With more than 1,000 articles each year, MidWest Outdoors magazine is all about sharing outdoor experiences with you—where to go, what to use and how to use it… whether you're close to home or on that trip of a lifetime.
All author posts
---