Fastest-growing shooting sport in the Midwest: pigeon hunting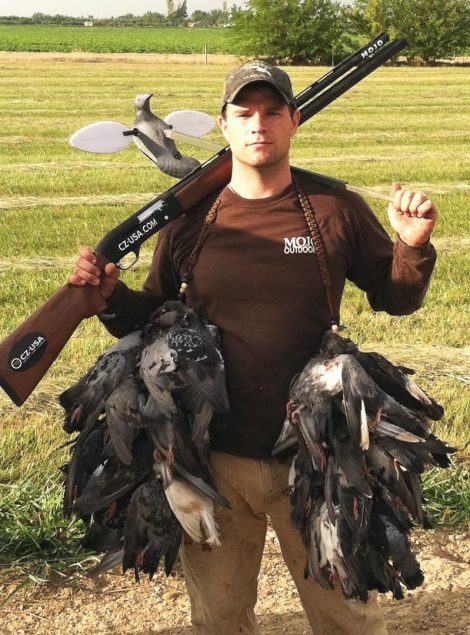 Ron Stresing tells us how to scout pigeons.
 Scouting
Dairy farms are prime places for feral pigeons, and silos and barns provide nesting and roosting cover. Also, the cattle feeding provide a non-stop buffet for the birds.
Pigeons are bad tenants, and repay the farm owners by fouling the silage and equipment with their droppings. Look around gravel pits, cement factories and old abandoned buildings, as these will all hold pigeons. I've also observed dozens of pigeons living under freeway over passes. The birds will often feed on adjacent farms or grain fields. Often, pigeons can be spotted feeding in cut-down, harvested cornfields or grain fields.
Are you enjoying this post?
You can be among the first to get the latest info on where to go, what to use and how to use it!
Just like with waterfowl, the easiest place to decoy these birds into is a field that they are already using. Find that field, obtain permission, and get in before first light to set up your decoys. Most times, the birds will arrive just after sun up. The last few hours of light are also a prime time to hunt them. Pigeons can also be "jump shot" by kicking them out of silos, sheds or barns. This is only with the consent of the farmer and should be done so with extreme caution, as you could be shooting right over cattle and around power lines.
As mentioned, barn pigeons tend to wear their welcome out quickly by fouling silage. A dairy farmer's milk check is his livelihood, and cows sickened by contaminated silage don't provide salable milk. They also don't need expensive tractors and combines "painted" white with pigeon droppings. Often, permission to hunt pigeons is much easier to obtain than permission to hunt the waterfowl. I suggest you ask politely, and always respect the farmer's safety rules. Most don't want any shooting close to the farmhouse or near their cow yards where the cattle could be frightened by gunfire. If the answer is no, be polite and ask if any other farmers in the area who might want their local pigeons controlled. If yes, offer something in return, and remember to thank them. Also, close any gates and also pick up all dead birds and spent shells. Cows have a funny habit of eating all sorts of weird stuff so scour the ground for shotshell wads and casings. MWO
Like to bird hunt?  Check out the June issue of MidWest Outdoors magazine, available at a newsstand near you. You may also subscribe to MidWest Outdoors online or by phoning 800-606-3474.
You can be among the first to get the latest info on where to go, what to use and how to use it!