Wisconsin Outdoor Report February 16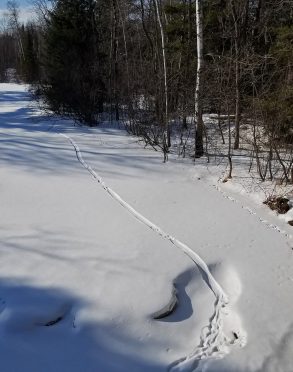 In this week's Wisconsin outdoors report: The deer and elk in the Flambeau River State Forest are conserving energy and aggressively browsing in logging areas. Whitetail deer should be dropping their antlers in increasing numbers so it is a good time to get out in the woods and shed hunt. Activities of bobcats, otters, turkeys, grouse and birdlife galore seems to have picked up in the warmer temperatures. An otter slide at Amnicon River State Park went down the river and then over the over the upper falls.
Daylight is noticeably longer than just a few weeks ago. Migrating Canada geese have been moving through the area, looking for open water where they can rest and feed as they head farther north. Winter is a great time for birding along the Lake Michigan shoreline. There have been several common goldeneyes bobbing in the waves near the shoreline at Whitefish Dunes State Park. Breeding activity among resident bird species already signals the change of seasons including turkeys displaying, chickadees singing their see-dee songs, increasing singing activity among cardinals and dark-eyed juncos, pairs of common ravens and pileated woodpeckers, displaying common goldeneye ducks and dueting barred owls.
Weekend fun
It's a good weekend to get out and play in the snow with several state properties holding winter fun festivities. Merrick State Park is hosting a winter fest with a candlelight snowshoe hike. The Capital Springs Recreation Area is holding a winter fun day. Activities include ice fishing, snowshoeing, a bonfire, treats and warm refreshments. Lakeshore State Park is holding a Let's Play in the Snow with snow sculptures and snow castles and snow painting. Candlelight skis are winding down. Merrick and four other events take place Saturday night. Venues include Governor Knowles State Forest and Governor Thompson, Willow River and Wyalusing state parks. For all event details, search the DNR website for keywords "Get Outdoors."
`
View the entire issue online now: http://dnr.wi.gov/news/OR/?id=577
Check some ice fishing tips here: https://midwestoutdoors.com/tricks-tactics-catch-ice-bulls-slabs/