Chicago Outdoor Sports Show 2018, March 22-25
Chicago Sports Show 2018
Outdoor Sports Group is proud to announce the 2018 Arlington – Chicago Sports Show at the Arlington Park Race Track, Arlington Heights, IL. FREE PARKING!! This year's show continues a 39 year tradition of great sports shows gracing the shores of Lake Michigan and providing the greater Chicagoland area a break from cabin fever.
The show team is proud to present dozens of fishing and hunting seminars, tons of new family-friendly attractions and hundreds of quality vendors and exhibitors preferred by the outdoor enthusiast.
The Chicago Sports Show's goal is to deliver seminars, attractions and exhibits designed to speak to sportsmen and women of all ages with a focus on activities that the entire family can enjoy.
Attendees will have an opportunity to shop for amazing deals on fishing tackle, boats, archery, outfitters, wildlife art, hunting supplies, charters, rafting, gun safes and knives, taxidermy plus so much more. The countries and worlds most prestigious fishing and hunting lodges will be on hand to provide you with unique travel opportunities. Destinations and family fun attractions await you around every corner at the sports show. You never know what you will see.
The Arlington Park – Chicago Sports Show, March 22-25, 2018 will provide what no other sports show in the country provides, over 7,500 FREE attendee and exhibitor Parking Spots.  In addition, to compliment the NEW VENUE the show will be creating several discounted ticket programs to expand its community outreach, support local charities and clubs, plus Arlington Park provides The Chicagoland's Fishing & Hunting Spring Spectacular  the following:
Located 20 miles outside Chicago / Easy access to major highways and Chicago Metra Northwest Train Line
Over 100,000 square feet of versatile indoor space
Up to two million square feet of parking lot space for a featured Boat & RV pavilion
Multiple meeting room configurations for outdoor seminars
Space for over 300 exhibit booths for outfitters, charters, fishing tackle, etc.
Technologically advanced audiovisual services on-site to broadcast vendor show promotions
Easy move-in, with multiple entryways to unload without union regulations
On-site parking for over 7,500 cars / Bus and handicap parking
77.2% of households with an income of $50,000 – $100,000 or more
Large selection of lodging options close to Arlington Park
FREE Wireless Internet
Chicago Sports Show Location:
Arlington International Racecourse
Arlington Heights, IL 60005-1004
Chicago Sports Show Hours:
Thursday:     March 22      11 am – 8 pm
Friday:        March 23      11 am – 8 pm
Saturday:     March 24       10 am – 8 pm
Sunday:         March 25       10 am – 5 pm
Chicago Sports Show Admission:
$10 Online
$12 At The Door
Children 11 and Under Free
Special Magazine Promotion with Purchase of Online Ticket
Chicago Sports Show Attractions:
Lake Chicago will be a new addition and special feature to the outdoor sports show.   The Lake will be a way to promote and let potential buyers get a hands-on feel of boats, docks, or paddle sports while on the actual water. With an impressive 100,000 gallons of water, occupying over 4000 sq ft of exhibit space, the man made indoor lake will be the shows feature attraction. This will be an instant crowd favorite and will be a way to showcase special brands up close and on the water as well as their Pro Staff.
What will be on the Lake?
1 Freshwater Boat to be docked:  Used for all on-water fishing and trolling demo's. (Seminars to be done from the boat or at the stationary dock with wireless audio)
1 Outboard Motor (for display only):  Used on the water and for promotional brand exposure.
1 Electric Trolling Motor:  Used on the water and functional for movement of the boat during seminars.
Canoes, Kayaks, and Stand Up Paddleboards for Demos:  Interactive display for potential buyers and featured in pro staff seminars.
Docks:  On display showing stability and docking options with accessories, dock rails, bumpers, cleats etc.
Chicago Sports Show seminars and featured speakers:
Recent Tournament Accomplishments:
National Walleye Tour 2016 Lucas Oil Angler of the Year
‐ Professional
Top TEN all‐time money earner on the National Walleye Tour
2nd Place in 2015 National Walleye Tour Championship ‐
Devils Lake, ND
2012 FLW Walleye Tour Championship 2nd Place
Qualified for every National Walleye Tour Championship and
FLW Tour Championship during professional career
Featured angler on multiple episodes of the Internationally Televised (NBC Sports, Pursuit Channel, Fox Sports) National Walleye Tour, over 13 million viewers per season.
BILL MCDONALD – FLW Fishing Pro Angler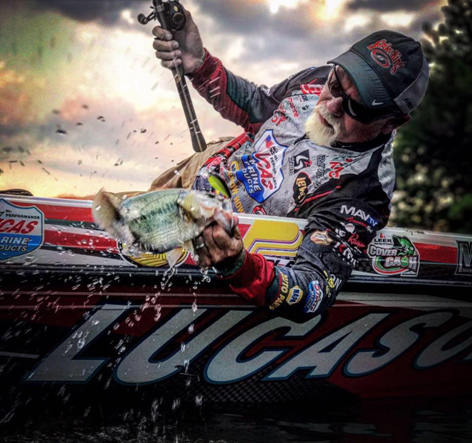 Angler Profile
Fishing tournament for almost 30 years, Billy is currently touring with the FLW Tour and Costa Series with FLW Outdoors.  People often ask "what keeps me going for 30 years" the answer is simply …it's the competition.   I live to fish competitively.  Integral to my success is working with my sponsors to not only fish well but, also help them promote their products.  McDonald may be most recently known for his 2012 performance on the Detroit River. The second day at the Tour event, was a day that will undoubtedly be whirling around in McDonald's mind for a long time to come. He posted the biggest bag of the tournament, an astonishing 25 pounds and 2 ounces of Detroit smallmouth bass. This was good enough to propel him into the lead for tournament, but he faltered slightly on remaining days, eventually finishing as runner up to legend Larry Nixon. When not fishing, McDonald enjoys spending his time outside. Whether he's fishing, deer hunting, or on the beach with his wife Candy and two children Brandon and Brittany, McDonald is happy just being in the great outdoors.
Hometown:  Greenwood, IN
Carrier Tournament Wins – 4
Career Top Ten Finishes – 18
FLW Cup Appearances – 1
Bio
Simply Fishing Extreme Television is a 30-minute series hosted by Bob
On the 19th of August 2010 history was made when Bob Mehsikomer became the first angler in the world to achieve the Cast-To, Catch and Release of 100 Muskies over the 50" benchmark, all on artificial and ALL released. That is the reason many in the muskie world claim him to be the best of the best. Although if you ask him, he will tell you he is simply a committed angler chasing the most elusive apex predator in North America's fresh waters.
The time and devotion to the pursuit of the muskie, bass, walleye, northern pike, lake trout, tarpon, sailfish, roosterfish, peacock bass and many other species are what makes this man the skilled angler he is. He studies the environment, the location, forage and the predator at a level others could only dream of. The devil is in the details Bob always says. When asked by a would be potential sponsor what made him so efficient on the water, he simply stated when you do it for a living, and living depends on eating, you learn fast and thoroughly. Every cast, every fish and every mistake are recorded in his day-to-day life on the water.
Bob is noted for his abilities to educate his fellow anglers. He has held many muskie schools in the US and Canada focused at raising the skills and abilities of anglers wanting a more rewarding experience for their time on the water. Many of his co-instructors have gone on to build their own place in the fishing industry as a result of their involvement.
And there is more…much more from this one of a kind angler driven by the challenge of the fish, the environment, the industry and the technology within it. There is much to learn from Bob.
Additional Information:
MidWest Outdoors will be an exhibitor at 2018 Chicago Sports Show. Be sure to stop by and meet the MidWest Outdoors Team—receive a free gift when you sign up for a subscription at the show!
Check out the MidWest Outdoors Digital Calendar for all the dates of outdoor sport shows in the Midwest!