Trolling for salmon is different than trolling for walleyes. Bluegill and crappie trolling is different from either of those, and then there's trolling for inland stocked trout, which is quite a bit like doing so for Great Lakes salmon but with much smaller lures and different baits. Add in stripers, muskies and pike, oh my!
So the gear covered in this article includes basics for the various setups you use when pulling baits behind a boat. Most important are items that take your lure down to the right depth at—downrigggers, dive-planers and weight systems—and where you spread your lures away from the boat (planer boards). We'll also discuss what you want in rods and reels, touch on some different line and get into the best types of downrigger releases.
Rod holders
The first set of gear you need for trolling effectively and comfortably are rod holders. No other accessory turns a boat into a trolling machine better than rod holders as these let you set your lines and you don't have to hang onto the rod. In most states, you can troll two, three, or more rods per person, but all are impossible without holders.
The best rod holders adjust their angles to hold rods actively pulling lures and adjust to hold a rod straight up, effectively doubling as a storage receptacle for rods when you head back to port or to another spot.
For a complete system, Traxstech is hard to beat. They can be pricy, but their rod holders and track systems that receive your holders are built to last. I have been on a "project boat" before, ranging from a 19-foot, aluminum dee-vee with an outboard to a 30-foot, diesel-powered offshore boat. Traxstech founder Jeff Miller personally installed his rod-holder system, turning nice boats into outstanding trolling machines. On my own recently acquired MirroCraft, Jeff installed a pair of Traxstech "trees," which hold four rods out to the side with a fifth holder for a net on each one. Other rods for dive planers go into the track system where I can fish two diver rods on each side. I can even slide the manual downriggers into the stern end of the tracks. With enough people aboard to be legal, I can run six rods per side for planer boards and diver disks (or Torpedo weights), plus a seventh rod on each side on the downriggers—that's 14 rods, all from a 17-foot, tiller-powered boat. I've run 12 at one time with four people aboard with no problem.
For my kayaks, Scotty rod holders have been the way to go. These are a good choice for smaller boats, and even a relatively economical one for larger boats. Scotty rod holders are made of plastic, but are durable. For my pedal-powered Hobie and Old Town Predator PDL, I have a Scotty Power Lock Holder both port and starboard in front of me with an extension between the base and holder that keeps rods from getting in the way of my legs as I pedal.
Autopilot
My 17-foot MirroCraft Aggressor 1770 has a Minn Kota iPilot bow-mount trolling motor that makes trolling a dream. The electric wonder features their Autopilot, which means you can set it and forget it then use the handheld controller to make turns from anywhere in your boat, either gradual or sharp (sharp turns often lead to tangles).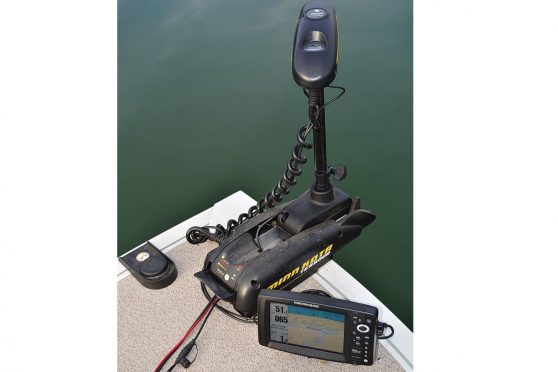 When I have to troll against the wind I just fire up the Evinrude 75-hp tiller and lock it straight forward, steering with the Minn Kota. This setup isn't something you absolutely have to have, but once you do you'll wonder how you ever got along without it.
Downriggers
Over the years I've run boats with different brands of downriggers. Michigan-based Big Jon makes excellent 'riggers as does Scotty up in Canada. I haven't fished with the Traxstech downrigger yet, but friends love theirs and say they have the same high quality as the Traxstech holders and other accessories.
My last several boats have had Cannon Downriggers. I ran either two or four
electric models on all of the project boats, although a current trend among salmon anglers is to run two or three riggers and put more weighted lines out on the planer boards. Cannon makes a solid product that performs well. I've rigged boats with Cannon's top-of-the-line Digi-Troll 10 TS, which can interface with Humminbird sonar/chart plotters to raise and lower your downrigger ball as bottom contours change. I'm just as happy now with the manual Cannon Unitroll model. The great thing about this model is that just a twist to the handle loosens the reel, lowering the cannonball at a controlled speed that makes these manuals easy to set.
For downriggers, I like replacing the steel rigger cable with 200-pound-test Power Pro on one side of the boat. Sometimes the hum of the cable attracts fish, but the quiet, non-humming side is more productive.
Downrigger weights
Some captains on Lake Michigan make their own "cannonballs" by melting down lead tire weights and filling an aluminum soda can with them. These work, but over the years I've used sophisticated Shark weights with multifaceted surfaces the company claims attracts fish. These are nice hydrodynamic weights for sure. I also liked the no-longer-made Ridgeback Rattler, an odd, flat weight with holes drilled through it to create a whirling vortex in the water that allegedly encourages fish to bite. The Ridgebacks cut through water with little blowback, staying fairly straight down instead of swinging behind the boat, and worked well. Another unusual, though effective weight is the Torpedo from Torpedo Products. It definitely does have little blowback and is available in 12 and 16 pounds.
Because I've lost so many of the fancy, expensive, shaped weights, I stick with less expensive round cannonballs like those from Cannon. Weights vary from 6 pounds for inland lakes (sometimes for Great Lakes walleyes) up to 15 pounds for fishing the big lakes.
Downrigger releases
I've tried all of them and have settled on two. First is a combo of the simple number 16 rubber band you can buy at office supply stores and then have clipped into a Chamberlain Release. The rubber band is especially good for 12-pound-test and lighter line. This can be held in place with a double half hitch in the rubber band. The rubber band clips into the Chamberlain, which you set fairly tightly. And when a small fish hits the rubber band it lets the rod tip wiggle.
Chamberlains are undoubtedly the most advanced, easy-to-use release on the market and work great without rubber bands. They magnetically adjust to release at the lightest bite so you don't need the rubberband—I just like to have it so I can grab the rod with smaller fish on it before the line releases.
The other release is an Off Shore Medium Tension Release that comes on a piece of wire. Just put your line between the pinch pads and you're ready. The wire transmits a wigggling fish to let you know it's there.
Planer boards
Although I own a set of fine Amish Outfitters cedar wood planer boards that deploy from a Traxstech mast with large reels for the planer board line, I rarely use them. Online boards are easier to store and deploy and allow me to easily cover different depths.
Here are the models I like for specific situations:
Church Tackle Walleye Board for salmon with weighted lines. These buoyant boards get through waves while dragging long leadcore and copper lines—even 12-ounce Torpedo weights with leadcore—without diving.
Off Shore OR-12 side planer with a Tattle Flag upgrade is the bomb for walleyes, crappies and stocked inland trout. The lightest hit (or weed) will make the flag bounce.
Big Jon Side-Liner Planer Boards. These smaller-sized boards are the go-to ones for big-water trout and salmon when they're in the shallows or up high in the water column. They're easy to set to "pop and slide" when a fish hits, allowing you to fight fish without bringing the board all the way to the boat to remove it first.
Weighted lines
While leadcore remains popular, copper line used to take lures deep arrived on the scene several years ago. Many salmon anglers use it exclusively as it gets deeper faster than the leadcore and there's no danger of it breaking. I still use mostly leadcore, favoring 100-yard lengths (aka "10 colors") of 27-pound Cortland for salmon fishing as well as 10- to 70-yard lengths of the same line for walleyes and inland trout trolling. Lead-core is easier to set than copper, and since it sinks more slowly, you're less likely to snag the bottom when you make a turn.
We're also starting to experiment with lengths of 18-pound-test Sufix leadcore for walleyes and inland trout. This uses the superline fiber Dyneema to encase the lead wire, making it thinner and stronger. You can use smaller reels with it, which makes catching walleyes and smaller trout more fun.
Divers
Although Dipsy Divers and Lurk Divers work great and I still use them, it's hard to beat the Slide-Diver Lite Bite directional sinker. This sinker allows you to let out as much line as you want to behind the disk, making your presentation stealthier. Plus, the innovative "Lite Bite" bar will release the disk and let you know you have a fish on with the lightest bite. No kidding—I've seen a crawfish release this disk. Get clear ones and get the optional ring kit if you want to get them down deep.
The other diver that works well is the Luhr-Jensen Jet Diver. This floats, and can't dive out to the sides like the Dipsies and Slide Divers can, and is commonly pulled behind a board. The floating quality makes these popular when trolling over snaggy bottoms.
Detachable sinkers
While snap weights from Off Shore continue to rule the walleye world and are great for adding depth to any presentation, the new Tadpoles from Off Shore are gaining a lot of fans who fish for salmon and walleyes. These things plane down but flatten out when a fish hits so you're not fighting a "planing" sinker too.
I also like the Stinger Dive Bomb for taking weighted lines deeper. You can affix a 3-ouncer halfway down a length of leadcore or copper and the weight "planes" it to deeper depths.
Another option is the Torpedo Diver, which is available in four sizes from 2 to 12 ounces. I like attaching these with a Church Clip, which hangs on the fishing line like a clothespin on a clothes line, making it almost impossible to lose the weight when it hits the bottom. In fact, the 12-ounce Torpedoes paired with braided or wire line and a line-counter reel make an inexpensive substitute for a downrigger. Torpedo's depth charts for these weights allow you to set them right where you want them. I often use the smaller 2-ounce Snapper or 4-ounce Shark for inland trout trolling.
Rods and reels
Inexpensive rods from all the big players work for most freshwater trolling. I have a set of eight old, White Shakespeare Wonderods, including ones that are 7 feet long and nearly indestructible that requires their own safe—I don't want to lose these, as they're no longer made. These work for just about everything, although it's nice to have 8- to 10-foot rods (I have a pair of pricier 10-foot Shimano Taloras) for diving disks to avoid tangles in the spread. I've also used quite a few of the lower-priced Daiwa Heartland Rods in various lengths and they work.
Where you might want to make a larger investment in is with reels. Since I troll for both salmon and walleyes, the Daiwa 47 LCA-model line counters work great for leadcore lengths of 60 yards and under. For full, 10-color cores and coppers, a Shimano Tekota 600 without a line counter does great.
For light-line downrigger fishing (12-pound test), a Shimano Calcutta 400 holds plenty of monofilament and has a flawless drag.
Line
Let's "wind" down this gear review with line. I like lighter line and often run 12-pound-test Clear Blue Stren on downriggers when using spoons for salmon or plugs for walleyes. Leadcore and copper rods have 30-pound-test braided backing, usually standard Power Pro since it has reliable quality. I put a 20-foot length of 30-pound-test Berkley Big Game between the weighted line and backing for attaching the planer board. (Planer board clips can weaken braided line and you won't know it's happening until it breaks.) On "Torpedo rods," I drop down to 15-pound-test braided line because it's fun to catch fish on lighter bass-type rods with smaller reels that can hold lots of 15-pound-test Power Pro.
Brothers and sisters, this story has just touched the tip of the trolling-gear iceberg, and there are lots more things to talk about. Hopefully, if you're going to set up for trolling, these tips and this review will help you get started.   
You can be among the first to get the latest info on where to go, what to use and how to use it!
---

Dave Mull of Paw Paw, Mich. has spent his career communicating the outdoors experience and runs Inner Viking Media. He enjoys kayak fishing for anything that swims in the lakes and rivers of the Midwest and beyond, and even uses his MirroCraft, from time to time. Available for seminars.
All author posts
---