Today's Electronics: Fishing in the 3rd Demension
As I am gliding along the water's surface trying to figure my next spot to fish, I often contemplate the thought of a large drain plug—similar to the plug in a bathtub, only larger—that I could unplug and drain the water out of the lake in order to get a glimpse of the structure below. I picture walking in a dry basin below what would be the water's surface, looking at the structure and trying to gauge where good fish habitat would be.
Prior to depth finders and fish finders, fishermen were limited to looking at the land above the water's surface to try and gauge from the landscape above what exactly might be happening below the surface. If a landscape was gradually sloping to the water, then it would probably continue that way—a sheer rock wall would claim a deep drop-off, a point might continue into the lake offering a ridge/point to fish, a sandy shoreline might be a gradual shallow bay and mean possible weedlines, rock-to-gravel transitions on the shore might mean the same into the water, etc. If you happened to find a hump on a lake, you quickly glanced the shoreline around you to get land bearings in order to relocate the hump the next time on the lake.
Then a scuba-diving family changed everything and designed a unit that came to be known as the "Little Green Box," and a company called Lowrance Electronics was born and started allowing anglers to find fish electronically.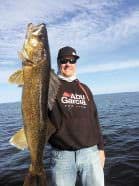 Since then, electronics in fishing has been steadily increasing every year. Down-scanning structure has gotten clearer and finding fish has gotten easier. The big three electronics companies—Lowrance, Humminbird and Garmin—started offering color units, larger units, newer technology and many features that sometimes even confused the angler more than help. Mapping software became prevalent and satellites offered the opportunity for pinpoint depths and locations while fishing.
That led to sonar with better target separation and side-scanning, which, unfortunately, I never got used to. I remember someone trying to explain a side-scanning unit to me once saying that "the left side of the screen is what actually is on the right side of the boat, and vise versa." Trying to look at what seemed an image of a small tree laying flat on the screen and picturing exactly where it was in relation to my boat just didn't work in my little mind. I just wasn't used to seeing things that way, I guess. It was foreign to me.
Paralleling the fishing electronics industry, only progressing at a much higher pace, was automobile navigation, video gaming, and the electronic smartphone industries. Smaller devices offering mapping and driving directions and the ability to change your onscreen car to a rolling beach ball or walking feet made consumers more technologically savvy. Watching the screen as your car followed a path that you could switch from flat to "semi"-3-dimensional, and also having someone's voice tell you in advance that your turn was coming up, is now the norm in almost every newer car. Madden NFL and other video games featured 3D and lifelike imaging that went beyond belief. Learning to text, FaceTime and maneuver around on a touch-screen device forced those not quite up-to-date on technology to be so. It was only time before fishing electronics started keeping pace.
And now, according to Lowrance Deputy CEO, Marc Jourlait, the fishing electronics industry is where the smartphone industry was a few years ago—with new gear and changes coming at a frenetic pace. Adapting from the smartphone technology, the Humminbird Helix, Garmin Multi-touch, and Lowrance HDS Touchscreen units, offer touch-screen devices that make quick and easy movement between pages, multi-page views on one screen at the same time and make navigating through the units easier. Competition is driving the companies to make the best, latest and greatest featured devices possible.
Just this past January, I was invited down to Florida to see the newest game-changing sonar-imaging system from one of the companies—the Lowrance StructureScan 3D. This new technology takes the flat, underworld view of the lake bottom and creates a mind-boggling three-dimensional view that shows contours, structure and fish locations in a realistic, "conventional" 3D view that most people are more accustomed to. This stunning 3D display quickly scans underwater terrain and fish-holding structure to create high-resolution, 180-degree, super-wide 3D views in depths to 300 feet and as far out as 600 feet port and starboard. These true-to-life scans give anglers a better understanding of where fish and structure are located in relation to their boat.
The StructureScan 3D sonar uses virtual point-of-view angles or ScanTrack pan-tilt-rotate control, so anglers can combine custom HD and 3D views to increase situational awareness and the ability to search fishing areas like never before. What I found truly amazing was that the HDS touch-screen display allows you to rotate the picture on the screen 180 degrees like it's on a swivel so that as you pass structure, you can see where the fish are holding on that structure directly behind and on the sides of your boat. Picture the boat coming toward you on the screen and you see everything behind and to the side as it comes forward—from fish, and to rocks to trees or any other structure.
Immediately, I began to think of what this means to the fishing industry.
The technology is ideal for a number of applications: The first is trolling purposes. The 3D vision gives you the ability to troll and set planner boards and line depths according to the new detailed 3D Lowrance display. What a perfect way to make sure you are getting your offering to the correct depths and areas.
It also adds an ideal benefit to structure fishermen. Now, instead of seeing a flat piece of structure that is holding fish, you can pinpoint and actually rotate the screen to see which side of the structure the fish are holding on. This creates an outstanding advantage for drifting structure and pinpointing casts to maximize your fishing time on the water. And, as an added benefit, as you pass or see a specific structure on the screen, all you have to do is touch the screen to create a waypoint for you to go back to revisit fishing areas: a specific structure or underwater sweet spot. And a new TrackBack feature allows you to go back "electronically" in history to see if the structure is worth marking. No circling back in the future; just scroll back, and if it is an interesting spot, you can drop the waypoint for future reference.
The new Lowrance StructureScan 3D is definitely a game-changer. There is no telling what the electronics makers will come up with next. But one thing is for certain: The underwater world is becoming easier to see from above. I know that a thing called "forward scan" is already working on some units and it will only be a matter of time before we are able to see fish in front of the boat.
Now, if they can just come up with something to make the fish we happen to locate…hungry.
You can be among the first to get the latest info on where to go, what to use and how to use it!
---

Larry Ladowski is a regular host on MidWest Outdoors TV and has been writing for MidWest Outdoors magazine for more than 25 years. Ladowski enjoys any time on the water and in the field, no matter where it happens to be and no matter what species he is fishing or hunting.
All author posts
---