The Long and Short of It
In the old days there wasn't much of a selection for rods. The majority of people used something like a long bamboo rod, but as time went on several models started cropping up in different sizes and materials. There are uses for all rods, and some who think anglers have to own only rods 7 feet or longer are wrong. That goes for about any fishing, but especially for bass. Many species, such as crappies, etc., lean toward the longer, specialized rods to reach into brush, while fish like steelhead are definitely long-rod candidates. Of course, for ice fishing everything is short, with the longest being in the 54-inch range for a Frabill Jiggler with hole-hopping. So, we'll target Mr. Bass for most information.
Everyone has their preference on lengths and materials. My selection of rods are a 5-foot 6-inch graphite with pistol grip casting rod, an 8-foot 6-inch composite and steelhead trigger sticks and the 6-foot and 7-foot spinning rods in ultralight to medium action. As stated before, each has its purpose.
For the 5-foot 6-inch casting with pistol grip, I use these in medium action for spinnerbaits and swimming jigs, especially in areas I'm making short casts and casts under overhanging trees. These will provide a quicker response and better hook-sets. They are also excellent for transporting in a vehicle and a good choice when fishing out of smaller, two-man boats with a partner on board. I prefer a model with a fast tip for quick casts and easier roll casting.
The 6-foot casting with straight handle is my "coverall" rod and I use it in medium action for just about everything, from soft plastics to Rat-L-Traps. It's used for spinnerbaits, especially the smaller finesse styles like a Stanley Baby Wedge. I also like it for casting jig combinations and Texas-rigged tubes. It has the same sort of hook-setting quickness and power as the 5-foot 6-inch models. I also like using this rod in the smaller two-man boats.
It may seem strange, but the 6-foot 6-inch casting rod with trigger handle is my favorite for flipping/pitching. Again, it is in the medium action, but I will sometimes go with a medium-heavy action. The rod performs well for the above-mentioned techniques, although it will not allow for the longer reach on flipping. Hook-setting abilities are good, and a big part of short distance-type fishing. An angler can often set the hook easier in close quarters than with a rod 6 inches or longer. Along with fishing jigs and soft plastics for the flipping/pitching technique, it is good for using for some shallower-running and lipless crankbaits similar to the Rat-L-Trap, as well as the Blitz Blade where very long casting distances are not needed. Another lure for this is a soft plastic jerkworm like a Power Jerk Shad rigged on a Daiichi Bleeding Bait Copperhead or Butt Dragger hook.
For the 7-foot ultralight casting rod with trigger handle, not much is used with the ultralight casting other than smaller lures, such as the Blitz Finesse Spyder Jig, Rat-L-Trap's Mini Trap, Road Runner (very good for Casey's Runner) and lightweight, rigged soft plastics. It makes a great rod for this purpose if rigged with the right reel and line (Revo S with 12-pound-test SpiderWire Super Mono) to make for long casts and positive hook-sets.
The 7-foot medium-action composite casting rod with trigger handle is a definite top choice for crankbaits and blades when wanting long casts and good fish-fighting abilities. The composite material provides more give, which is a must when fighting fish at the end of a long cast with these types of lures noted for easy throwing. While it may seem strange to many who want the higher priced rod, I use a Berkley Cherry Wood. It's proven for tagging fish with Rat-L-Traps casting long distances.
I'm sure many of you are wondering why an 8-foot 6-inch Buzz Ramsey Air Rod for steelhead would be mentioned in line with bass. It works for numerous species for long casts. I've used several lures at 1/4 ounce or more with success on this. I call it my Blitz Blade rod since I've used it a lot, but in truth, it has worked for the Casey's Runner, Rat-L-Trap, Jerk Shad, Blitz Spyder Jig combo, and Texas-rigged soft plastics. I would use it for larger bodies of water, but my primary use is for fishing areas from shore, such as for reaching weed areas or other structures.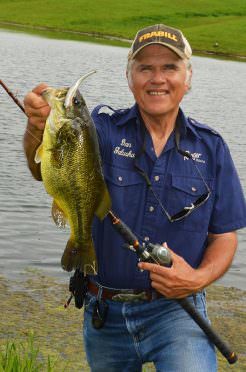 I used to use shorter spinning rods, and still do for trout, but these days I've found the 6-foot 6-inch and 7-foot sizes for spinning works best for bass or crappies. The 6-foot 6-inch size is used in medium and ultralight, with the medium used for lures needing more hook-setting power. The 7 is used in the ultralight action primarily for one technique—finger jigging, with the main lure being a 2-inch Power Minnow rigged on a 1/16- to 1/8-ounce B-Fish-N H20 Precision Jig Head. Other lures used for both lengths are Rat-L-Trap's Tiny Trap, finesse worms rigged Texas style or on a jig head, Road Runners of all sizes with the larger ones for the medium action, Blitz Finesse Jigsy for swimming with a steady retrieve or "finger jigging" a White one with a 3-inch Power Minnow trailer and small spinners like the old Beetle Spin.
Another rod for panfish, but one I've caught bass with is a 10-foot Berkley C-Series spinning rod. This is used for very long casts or reaching for into brush areas. I drift jigs under a Mr. Crappie weighted float, using the wind/wave action for jigging, especially with a Slab Daddy tipped with a Crappie Nibble. Casting distance abilities make it excellent for onshore fishing.
As you can see, there just isn't one set of rods for successful fishing. You have to get in touch with the "long and short of it" and find the best system. However, budgets don't allow for everyone to have a huge selection. If I were limited to four it would be medium-action, 6-foot and 6-foot 6-inch rods for casting and 6-foot 6-inch medium and 7-foot ultralight rods for spinning.
I can remember when filming an episode of Dan's Fish 'N' Tales on the Hennepin Canal and my cameraman, Brad Mosier, showed up later than planned and we didn't have a lot of time to shoot. I had 12 rod/reel combos on the deck and thought about how cluttered the mess must look to the viewers. So, I asked Brad if he wanted me to explain why I had so may outfits put out. He figured I was going to have some sort of smart remark, so he asked, "What are you planning on saying?"
It was simple—fishing is like anything else, and it takes a set of correct tools to be successful. Each rod/reel combo is a different tool to be used for a different sort of lure or technique. Of course, people didn't know that I had to pull out all stops to catch enough fish for a show in two hours. Anyway, it was successful and the episode ended up winning an AGLOW Award, which is icing on the cake.
I hope this has helped in some way to shed some light on how a variety in rod lengths can make a difference and provide a starting point to build a personal selection.
If you have any further questions about this or any other fishing subject, drop me a line through the Dan's Fish 'N' Tales® website at dansfishntales.com, or Facebook page at facebook.com/dansfishntales.
You can be among the first to get the latest info on where to go, what to use and how to use it!
---

Dan Galusha has fished all of his life, worked more than 45 years in the outdoor/media industry, and was inducted into the Fresh Water Fishing Hall of Fame as a Legendary Communicator.  Direct questions through dansfishntales.com, facebook.com/dansfishntales and facebook.com/shootnplink.
All author posts
---