Selecting the best Sunglasses for your Fishing Purposes
Sunglasses to a fisherman are an absolute necessity, both from an angling standpoint, but also a safety one as well. The right pair of sunglasses will allow an angler to spend countless hours on the water and allow them to see objects below the water's surface, avoid harmful damage to the eye from the sun's rays and protect the eye from flying objects, such as a fishing lure or bug when driving down the lake at 60 plus miles per hour.
Selecting the right pair of sunglasses can sometimes be quite the time-consuming process since each angler has his or her preference on fit, feel and style. When looking at a new pair of sunglasses for next fishing season here are some items to consider.
The first, and I feel the most important thing to consider is the comfort factor. What I mean by this is, are these sunglasses comfortable on your head, especially behind the ears and on your nose. For many diehard anglers, a fishing trip isn't just an hour or two venture. It is at least a half day or more on the water, meaning that these sunglasses could potentially be on your face for up to 12 hours. I make sure that the nose pads don't pinch my nose and that they fall at a comfortable spot on my nose. The frames of the sunglasses shouldn't be pinching the area behind the ears, nor extend out too far where they will be a distraction. Obviously, the best way to see if a pair of potential sunglasses is comfortable is to try on as many pairs as possible.
How the sunglasses fit on an angler's face or their profile is another important item to take into consideration when selecting a pair. My head and face are on the smaller side, so the sunglasses I go with, the SPY Frazier, cater to a person who has my head and face profile. What I don't like is sunglasses that overpower my face, making it feel like my face is swimming inside the frame. But for a person who has a larger profile head and face, you don't want to go with sunglasses that are too small, as the sunglasses won't provide the needed eye protection.
When looking at the lenses in your next pair of sunglasses, the most important thing to always look for is that the lenses are polarized. A good polarized lens will take the glare off the water, allowing an angler to see underwater cover and even fish. Other items to take into consideration when looking at lenses is the material of the lenses. Some are plastic, while others are glass, but most now are constructed out of a polycarbonate.
One of the coolest things to come out in the sunglass market since the polarized lens in the 1930s is the new SPY Happy Lens. This technology is designed to foster a positive uplift in mood and alertness, by allowing the mood-enhancing, long-wave blue light rays into the eye. For me this lens is also a huge advantage as it relaxes my eyes, thus reducing fatigue; meaning, I can be on the water longer and not feel the effects.
The color of the lens in your sunglasses is also something to take into consideration, as certain color lenses perform better during certain times of the day and the amount of light and cloud levels present. Many manufactures offer lenses in the following colors, which excel in the conditions listed next to them.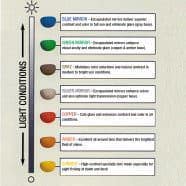 Amber – all around good lens choice, delivers brightest field of vision
Gray – excels when the sun is shining bright
Yellow – good during the low light periods of the day
Cooper – cuts glare and enhances the contrast of color
Green – shines when their needs to be differentiation between objects
Silver – good choice for sight fishing or anytime there are variable light conditions
Blue – great for open water fishing, where there is the maximum amount of glare
The style of the sunglasses is important, but not as important as the above-mentioned points. An angler needs to be happy with how the sunglasses look on them since they will be wearing these a lot and sometimes not just in the boat, but also into restaurants, bars and gas stations.
Before you hit the water next season take a look at your current sunglasses to see if they are up to the task of keeping your eyes safe and protected next fishing season, because you can always replace your glasses, but you can't replace your eyes.
Glenn Walker has been fishing Minnesota and Mississippi River tournaments for more than 10 years, spreading his passion and knowledge of the sport via articles and videos. Glenn's sponsors include: Ducky Products, Humminbird, Jeff Belzer Chevy, Mercury Marine, Minn Kota, Plano, Rayjus, Seaguar, Simms, Snag Proof, The Rod Glove, TroKar, Wright & McGill and Zoom Baits. For more information check out glennwalkerfishing.com or on Facebook at facebook.com/glennwalkerfishing.
You can be among the first to get the latest info on where to go, what to use and how to use it!
---
Glenn Walker has been fishing Minnesota and Mississippi River tournaments for more than 15 years, spreading his passion and knowledge of the sport via articles and videos. For more information, check out glennwalkerfishing.com or on Facebook @GlennWalkerFishing.
All author posts
---