2019 Minneapolis Lake Home and Cabin Show: February 15-17
2019 Minneapolis Lake Home and Cabin Show Details
Now in its 15th year, the Lake Home & Cabin Show is Minnesota's ONLY show that specializes in second homes and the second home lifestyle.  If you own a lake home, cottage or cabin or you want to own one this is a truly unique and focused event you'll want to experience.
Here's a glimpse of what you'll find at the 2019 Lake Home & Cabin Show:
Rustic and Specialty Furniture & Furnishings
Architects, Builders & Remodelers
Real Estate & Finance
Sporting Gear, Outdoor Equipment & Marine
Landscaping & Lakeshore Maintenance
Custom Products, Accessories & Publications
How-To Seminars & Demonstrations
2019 Minneapolis Lake Home and Cabin Show Hours
Friday, February 15 2 p.m. – 8 p.m.
Saturday, February 16 10 a.m. – 6 p.m.
Sunday, February 17 10 a.m. – 4 p.m.
2019 Minneapolis Lake Home and Cabin Show Admission/Ticket Prices
Adults: $12
Youth 5-15: $5
Under 5: FREE
2019 Minneapolis Lake Home and Cabin Show Location
Minneapolis Convention Center 
1301 2nd Ave S
Minneapolis, MN 55403
2019 Minneapolis Lake Home and Cabin Show Seminars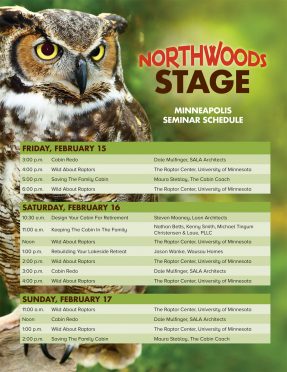 2019 Minneapolis Lake Home and Cabin Show Attractions
Wild About Raptors! 
Presented by The Raptor Center, University of Minnesota
If you've ever caught a glimpse of an owl winging silently through a forest, or a bald eagle riding the summer thermals it's hard not to appreciate how amazing these birds are. Raptors, which are carnivorous (meat-eating) birds, have been around in some form for more than 50 million years. And although there are more than 482 species worldwide, they all share at least three main characteristics; keen eyesight, eight sharp talons and hooked beaks.
Guests at this year's Lake Home & Cabin Show will be able to see a special selection of raptors – live and up-close at the "Wild About Raptors" feature on the show floor. Visitors will see several live raptors including an American kestrel, red-tailed hawk, bald eagle, great-horned owl and a peregrine falcon. You'll learn about these fascinating and adaptable birds through expert naturalists from The Raptor Center (TRC) at the University of Minnesota.
Since its inception in 1974, The Raptor Center has become internationally known for its avian medicine and education programs. TRC treats more than 1,000 sick and injured raptors each year and provides specialized training in raptor medicine and surgery for veterinarians from around the world. TRC reaches more than 150,000 people each year through educational programs and events.
TRC Performance times on the Northwoods Stage are 4 & 6 p.m. Friday, noon, 2 & 4 p.m. Saturday and 11 a.m. & 1 p.m. Sunday.
Quick Cabin Bites!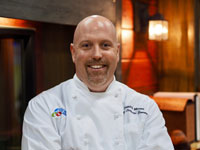 Presented by Chef Patrick Moore, the "Getaway Gourmet"
Chef Patrick Moore, the show's very own "Getaway Gourmet" from Brule, Wisconsin is bringing three of his favorite hors d'oeuvres recipes to the cooking stage this year! As always, his unique cooking presentations combine great award-winning flavors with his own belief that cooking at the cabin can be a wonderful experience that doesn't have to take all day. "You came to the cabin to relax with family and friends," Chef Patrick said, "I'm going to teach you how to make memorable meals and still leave time for play."
This year's "Quick Cabin Bites" recipes include; Triple Mediterranean Bruschetta, Grilled Corn & Black Bean Salsa and Crab & Avocado Salad. The "Getaway Gourmet Cooking Stage is located at the back of the 800 aisle. Free recipe cards and "Quick Cabin Bites" samples will be served!
Cooking demonstrations will be presented a number of times each day. (Friday – 3, 5 & 7 p.m.; Saturday – 11 a.m., 1, & 3 p.m. and Sunday – noon & 2 p.m.)
The Northwoods Seminar Stage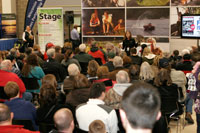 A summertime photo wall is the perfect setting for guests to enjoy unique and informational seminars, demonstrations and activities happening every hour at the "Northwoods Seminar Stage." The complete schedule of events is in the Show Program, and at the stage at the back of the 400 aisle.
Pin My Cabin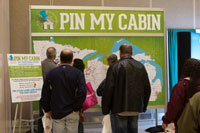 Presented by Wausau Homes
Want to see who your neighbors are? Here's your chance to "Mark Your Second Home Spot" at the PIN MY CABIN Interactive Map Feature presented by Wausau Homes. Located in booth 816, the PIN MY CABIN Feature is a large Midwest state map graphic that "grows" with pins throughout the show.
Don't miss the fun and interactive chance to pin YOUR cabin and see just how many neighbors you really have. Plus, when it's time to build a new custom cabin there's a Wausau Homes dealer virtually anywhere you are in cabin country!
2019 Minneapolis Lake Home and Cabin Show Exhibitors List
66 Marine North
A Spice Above
Abbott Paint & Carpet
Abra Landscaping
Advantage Seamless Gutters
Alder Creek Custom Cabinets Inc.
Alexandria Homes, Inc.
All Energy Solar
All Exteriors, LLC
All Stone Solutions
Amazing EZ Screen Porch Windows
Ameribuilt Buildings, Inc.
American Door Works
Andersen Windows
Area North Realty
Arrow Building Center
Author Dale Mulfinger
B-Dirt LLC
Backyard Reflections, Inc.
Baratto Brothers Construction
BeachRoller
Bear Island Land Co.
Bercher Design & Construction
Best Craft Furniture
Best Hummingbird Feeder Ever
Big River Timberworks
Big Wood Timber Frames, Inc.
Black Pearl
BlackRidgeBANK
Blue Ox Timber Frames Ltd
BlueLinx
Boat Lift Helper
Bob Kochenderfer & Mary White -Edina Realty- Garrison
Bradley Security, LLC
Brainerd Sports & Marine
BW Portrait Art
Capital Granite
Cedar Brook Construction, LLC
Cedar Point Realty
Central States Manufacturing
Century 21 Brainerd Realty
Chris Doehrmann Architect, Inc.
Christensen & Laue, P.A.
ClearCreek Concrete Log and Timber Siding
Click Heat
Coldwell Banker East West Realty
Coldwell Banker Northwoods Realty
Construction Advocates
Cornerstone Timberframes Inc
Curb Creations and Boulder Designs
Custom Drapery & Blinds by Michael Esch
Custom Remodelers
Custom Timber Frames
Custom Upholstery & Awning Center
Cutco Cutlery
D H Docks LLC
D-Tails Construction Services
Deerwood Bank
Design Homes, Inc.
Dickinson Homes Inc.
Dock Rite, Inc.
Dotty Brothers Construction
Economy Garages USA, Inc.
Edina Realty
Enercept, Inc.
Energy Panel Structures
Everlog Systems
Exit Lakes Realty Premier
Extreme Panel Technologies, Inc.
Finken Water Treatment, Plumbing, Heating & Cooling
Fire and Feast Products
FireBuggz
Fish Lake Dock & Lift
Flagpole Farm
Flo-Fast
Floe International
Foust Construction & Design LLC
Frontier Cabinetry
Frontier Structures LLC
Garage Experts
Gartner-Johnson Construction
Gebhart Construction – Real American Dream Homes
Golden Eagle Log & Timber Homes
Grandt Builders
Granicrete MN
Great Lakes Stone Supply
Great Northern Woodworks
Gutter Helmet of MN
Habitat Architecture
Heim Hand-Crafted Log Homes & Restoration
Hi Tempo Ski & Sail
HighPoint Homes
Hill Construction, LLC
Hillside Lifts
Howard Homes, Inc.
Ideal Homes
Innovative Basement Systems
Jack Rabbit Metal Works
Janisch Realty, Inc.
Jenlis, Inc.
Jewel Cabinet Refacing
JK Landscape Construction LLC
Keller Williams Classic Realty NW
Keller Williams Premier Realty
Kevin A. Yeager Fine Homes & Interiors
Key Log Rolling
Kinetico (Aquarius Water Conditioning)
Kurilla Real Estate
Lake and Home Magazine
Lake Area Docks & Lifts
Lake Country Builders
Lake Side by CoasterStone
Lake Time Magazine
Lake Weeders Digest
LakePlace.com
Lakes of Wood
Lakeside Fireplace & Stove
Lands End Development
Laurentian Monument Granite & Stone
LeafFilter North of Minnesota, LLC.
Liberty Mutual Insurance
Lifetime Tiki Huts
Living Well Products Direct
LoneTree Designs
Loon Architects, LLC
M.A.D. (Modern Architecture & Development)
M&E Sales
Maina Hardwoods Inc.
Manomin Resawn Timbers Inc.
Marine Dock & Lift
Master Builders
Midwest Electric and Generator, Inc
Minnesota DNR
Minnesota DNR Forestry
Minnesota HOME Magazine
Minnesota Rusco, Inc.
Minnesota Spray Foam Insulation
Minnesota's Bookstore
MOR Golf and Utility, Inc
Mosquito Squad of NC MN
My Pillow, Inc.
Natural Tones
Nelson Lumber
NextGen Logs
Nguyen Architects, Inc.
Nor-Son Custom Builders
North Woods Fish
Northland Buildings
Northland Construction Inc.
Northland Custom Closet & Garage
Northview Bank
Northwood Industries Inc.
Norwex
Oak Realty
Oar Board
Outdoor Improvements
Paddle North
Phantom Screens, Inc.
Pike Dock & Marine
Pine River State Bank
Pioneer Log Homes Midwest
Porta-Dock, Inc.
Positive Realty
Power Lodge
Premier Real Estate
Prime Waters
Pro WoodCare
RDC Architects
Re/Max 4 Seasons LLC
RE/MAX Advantage Plus
Re/Max First Choice
Re/Max Northland
RE/MAX Results
Realty Executives – Alexandria, MN
Renewal by Andersen
RetroGreen Energy
Ricki and Sons
Riffle Construction
Rinnai America Corp.
Roll-n-Go / ShoreDocker
Roycroft Design, LLC
Ryan's Rustic Railings & Furniture, Inc.
SALA Architects Inc.
Sanborn Canoe Co.
Sandelands Realty
Schrock Construction
Screen Area Enclosures
Sculpture by Design Inc.
Sean's Cabinetry, LLC
Sharp-Edge Hardwood Floors, LLC
Slater Realty Group
Sleep Number
Solo Dock
Sota Lake Home Rentals
Spa Specialist
Spitzack Builders, Inc.
SRS Crisafulli, Inc.
Star Tribune
Start to Finish Builders & Remodelers
Stone Lake Lumber
Structural Buildings
Structures Wood Care, Inc.
Summer Lakes Beverage
Sunspace – Brainerd Lakes
SuperGreen Solutions of Central Minnesota
Syndicate Sales Corporation
Synergy Products
T-Mobile
The Cabin Coach
The Connected Home
The Granary WoodShops
The Great Furniture Gallery, LLC
The Metal Roof Company
The Sansin Corporation
The Tongue & Groove Store
Timber Ghost Realty
Timber Valley Millwork
TimberCreek Furniture
Tin Man Siding LLC
Token Creek Cedar
Touch of Purple
ugo wear
Up North Fireplace Gallery
Vertex Roofing
Viking Log Furniture
Voyageur Log Homes
WaterFurnace International, Inc
Wausau Homes
Wedell Woodworking
Weedroller – Lakeside Innovations
Wes Hanson Builders Inc.
Western Products
Wilderness Land Clearing
Wilkening Fireplace Company
WillowRokk Coterie
Wolff & Simon Real Estate
Wood Art by Vel, LLC
Wood-n-Log Restoration & Maintenance
Woodcraft Homes
Your Home Improvement Company
z'Up North Realty